Introduction
---
Welcome to WooSignal! Get familiar with how WooSignal works and explore the features available.
If you have any questions please feel free to contact us
Requirements
---
To quickly get setup, you'll need to ensure that you have the below requirements.
WordPress 4.4+

Woocommerce Store 3.0+

Xcode 11+ (Download from the App store for Mac)
Folder Structure
---
Download and extract the zip. You will find the structure as follows:
| | |
| --- | --- |
| App | Contains the app, open the "Label.xcworkspace" |
| Label Woocommerce Plugin | Contains the Label WordPress plugin |
| Readme.txt | Information for changelog & version |
Connecting WooCommerce
---
Follow the below steps to connect your WooCommerce store:
Login into your WooSignal account (or create an account if you are new).

On the Dashboard, if you have not connected your store, it will display "Offline". This means you will need to connect your WooCommerce store, select "connect" and add the url to your WooCommerce store e.g. https://www.outdoorshoes.com once added, select "Connect store".

It will ask for an admin user to login so WooSignal can be authorized to connect with your WooCommerce store. If all has gone successful, your dashboard should show "Online" which means your store is now connect!
Connect Label App
---
If you have followed the above steps, you should now be able to connect your app.
Using Xcode, open the "Label.xcworkspace" file in the package. Once open need to open the LabelCore file (inside Core [EDIT APP INFO]).

This file contains configuration settings for the app
Linking your WooCommerce store
On the WooSignal dashboard you should have "Manage Apps" on the left sidebar, select it and generate a appKey by clicking "Generate new key". This will create a key for the app to use, copy it and go back to the app.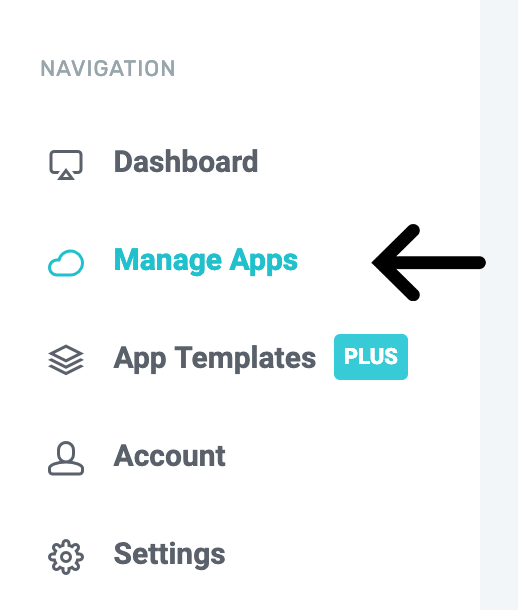 Inside the "LabelCore" file in Xcode, look for appKey and update the value like so
let appKey = "paste the app key here"
Once added you should be able to run the app in Xcode by clicking the run icon at the top
Note: Products - If you are on the free plan it will only display 20 products, to show more products/categories results you will need a plus membership.
View our plans to learn more.
Currency
---
To change the currency symbol throughout the app, first open LabelCore in Xcode and look for the following variable
let appLocaleID:String! = "en_GB" // e.g. en_US
// Find your countries locale - View Locales
Woocommerce Payment Currency
To change the currency for Woocommerce orders find the following variable inside LabelCore in Xcode
let currencyCode:String! = "GBP"
// Find your currency code - View Currency Codes
Multilingual
---
To change the language throughout Label you will need to use the Localizable Strings in Xcode, we have created one in English that can be referenced for new Localizable Strings, here is a guide to learn how it works
Login
---
If you want to use the login feature in the app you need to ensure that you have installed the following plugins on WordPress first:
JSON API
JSON API Auth
JSON API User
Label Plugin (Included in package "Label Woocommerce Plugin")
Once installed, please ensure that you have activated them in your WordPress settings.
Next
Go to hover over the settings button in WordPress and select the "JSON API" option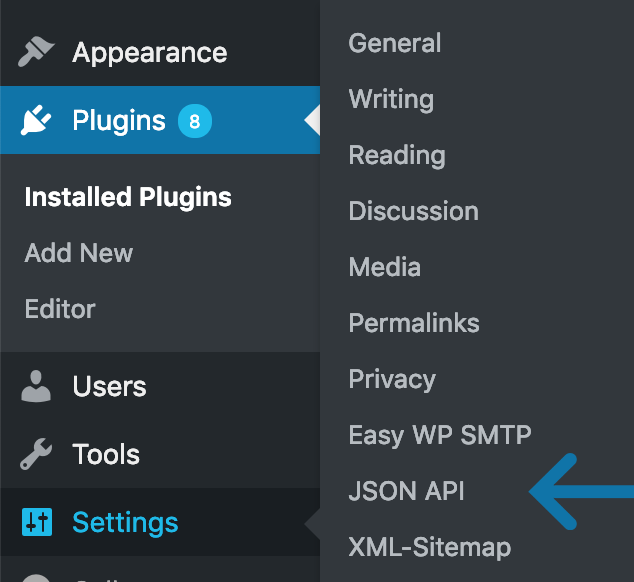 Next, go to Settings on WordPressSettings > JSON API > activate the following : "Core", "Auth" and "User"
Activate the following from the list:
Once you have activated the above "Core","Auth","User" in the JSON API settings you should now be able to configure the app.
Configuring login for the app
Make sure the wcUrl in "LabelCore" is set to your domain
let wcUrl:String! = "http://yourdomain.com/"
Make sure useLabelLogin is enabled like the following
let useLabelLogin:Bool! = true
You should now be able to run the app and use the LabelLogin feature
Stripe
---
To connect Stripe to Label you will need to first login to WooSignal, on the dashboard, you will need to connect your Stripe account here

Follow the guide on Stripe, this will authorize WooSignal to connect with your Stripe account.
Once the account is connected it should show "Online" in green on WooSignal which means it was successfully connected. The next step is to visit Stripe and get your Publishable key. If you're not sure how to get this follow this guide, next copy your Publishable key and open the LabelCore file in Xcode. Inside this file contains the following variable we need to update.
let stripePublishable:String! = "paste publishable key here"
let useStripe:Bool! = true
Note: To change the environment to live you will need to turn off "test mode" in WooSignal and update the publishable key in the app to the live key
Apple Pay (uses Stripe)
---
To use Apple Pay you must have a developer account with Apple, learn more here.
1). Apple developer account

Visit apple developer website via http://developer.apple.com and select your account


On the account overview, select "Certificates, Identifiers & Profiles".

2). Create a merchantID

On the left sidebar look for Merchant IDs inside Identifiers and select it.

Inside here you will need to create a merchant Id by clicking the plus icon in the corner, add a Description and Identifier and continue. You should copy the ID and paste it to the variable merchantID in LabelCore

let merchantID:String! = "paste merchant id here"

3). Xcode

Next inside the Xcode project, click the Label right at the top left sidebar and here you'll need to edit the compatibilities of the app. Find Apple Pay and turn it on and select the merchant id you created from the list.

4). Stripe

Steps

- Obtain a CSR (certificate signing request) file from Stripe

- Use this CSR to generate a certificate through Apple

- Upload the certificate back to Stripe

4.1). Stripe dashboard

Visit this Stripe link - Apple Pay Settings page

Once you're on the dashboard, choose Add new application and download the .certSigningRequest file.

Next go to your Apple developer account and edit the merchant ID that you created earlier.

Click "Create Certificate" in the Apple Pay Payment Processing Certificate box. You will have some options that you need to select to proceed. When you get to the final screen you will need to upload the "stripe.certSigningRequest" file you downloaded from Stripe earlier.

Now you can download the certificate from Apple

Final steps - Now go back to Stripe and upload the file you received from Apple to your account.

All done, now ensure you have added your Stripe publishable key inside the appconf file to ensure you can start testing the payments.
PayPal
---
To use PayPal within the app, you must already have a PayPal developer account. If you don't already, sign up via the PayPal developer site here
Once you have an account go to the dashboard and click "Create App"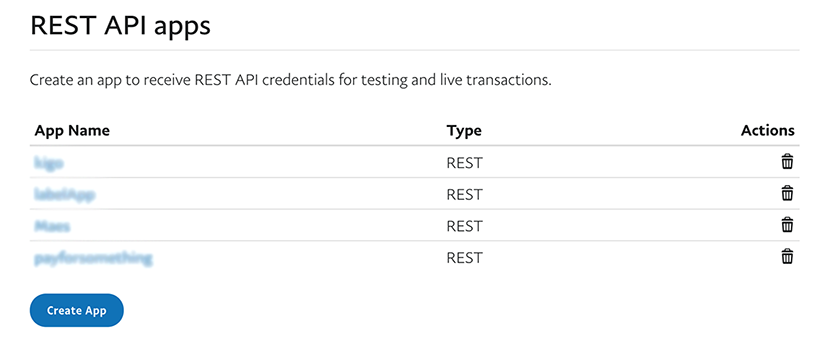 Next copy your client ID and secret from PayPal like so, we'll need this later for the app.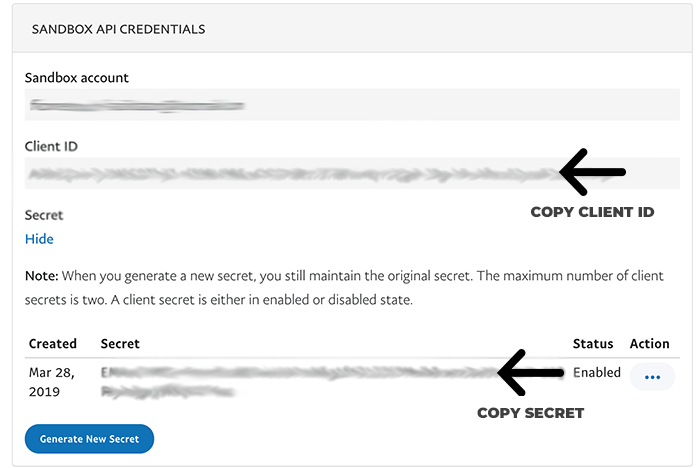 Open Xcode and go to your LabelCore.swift file, look for the below variables and replace the client id and secret with the keys from PayPal
let paypalClientID = "your paypal client id"
let paypalSecert = "your paypal secret"
Next
Change the environment to your desired needs, PayPal has 3 you can choose from:
PayPalEnvironmentNoNetwork - Allows you to test payments easy without real PayPal account
PayPalEnvironmentSandbox - Allows you to test payments with a linked sandbox account
PayPalEnvironmentProduction - Allows you to accept real payments
Change the below value to change environments e.g.
let paypalEnvironment:String! = PayPalEnvironmentNoNetwork // e.g. mock testing
let paypalEnvironment:String! = PayPalEnvironmentSandbox // e.g. sandbox
let paypalEnvironment:String! = PayPalEnvironmentProduction // e.g. production

IMPORTANT! Get your live client id and secret in PayPal when you want to accept real payments.
Build and run the app to see the results, if you need help feel free to contact support
Credits
---
Icon's made by Freepik from www.flaticon.com